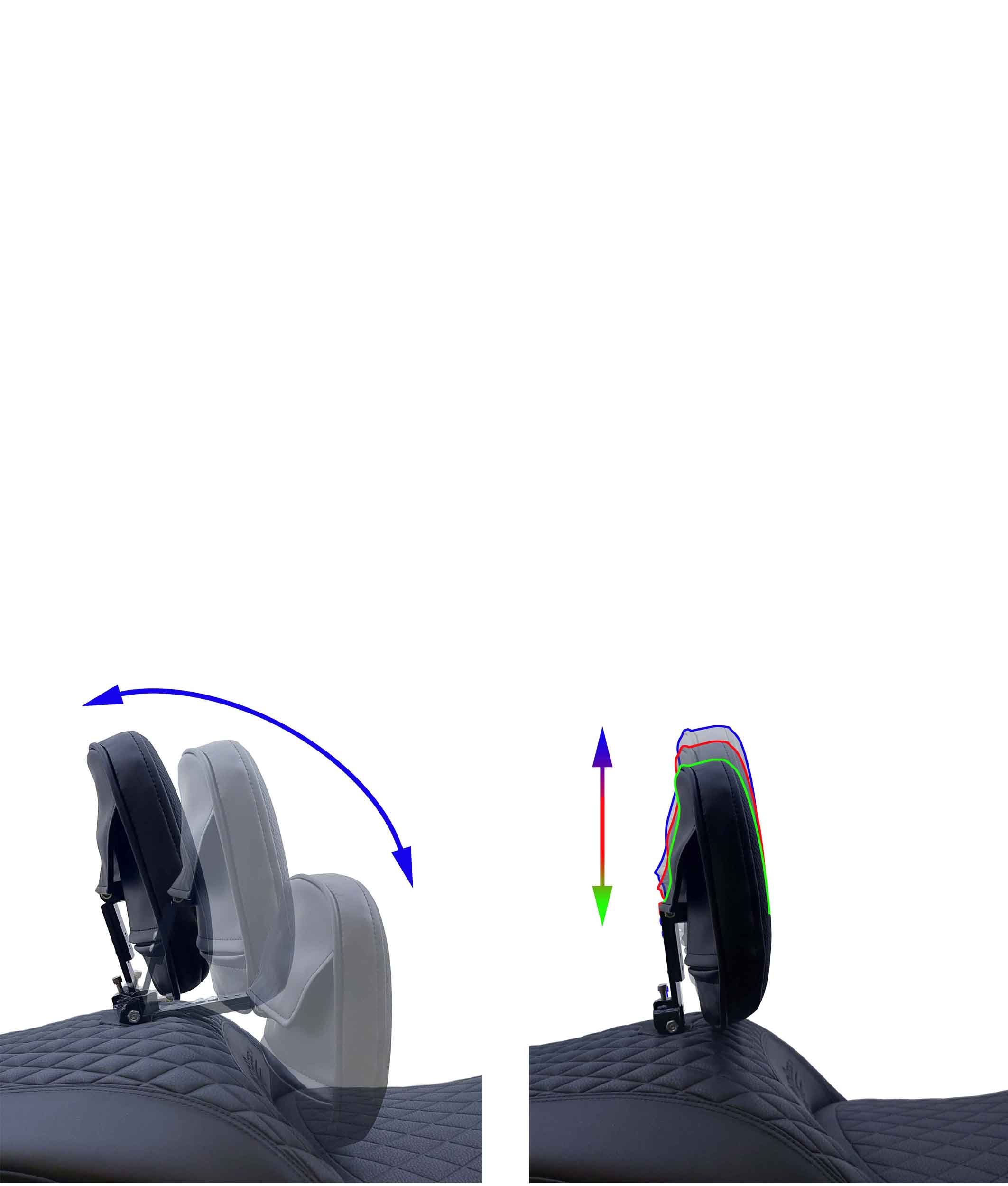 We've got your back
UTOPIA PRODUCTS ~ Family owned and operated since 1974.
"The UTOPIA" Built-in Driver Backrest, made in the USA
Our riders appreciate the comfort, support and ability to ride longer. "The UTOPIA" Built-in Driver Backrest becomes part of your seat with no obtrusive bars. Each backrest is meticulously crafted and designed to fit more than 200 models of bikes.
Adjustable up/down & forward/aft to help avoid slouching and driver fatigue

Pivots while riding for optimal, natural position

Folds forward to allow passenger easy mounting & dismounting

Includes all mounting hardware & removable pouch with shoulder strap
What our customers are saying...
This is the backrest you want to buy, VERY COMFORTABLE!
I just bought a 2022 Honda Gold Wing Tour DCT. The Utopia backrest is extra wide, and it fills your whole lower back. It is so comfortable, it feels like you are sitting in a lazy boy chair. It holds you in position, so your back is supported for short or long rides and you do not have to hold on to the handlebars as tight. This is a great company to deal with, Andy and Dan at Utopia Products were wonderful to work with.
Ron
...this product is simply "THE BEST"...
It has been 4+ years since I had my backrest installed by Utopia. To all my Canadian riders out there this product is simply "THE BEST" in quality, design and installation on the market today. I had it installed on my 2012 BMW k1600GT and it was a life-saver to have it on my ride from Vancouver Canada to Palm Springs California and back again. Do yourself a huge favor and get this backrest. It will save your spine and muscles regardless of what you ride plain and simple!!

THANKS SO MUCH!!!
Mark - Canada
The best backrest for police bikes!
I've had 3 of them on my 3 FLHTP Electra Glides over the last decade - and they're still on - no issues. Excellent comfort, easy to install, best value for money. Brilliant customer service. Delivered on time. Just wonderful!
Ghaleb
Better then OEM…
Quality… Customer care and communication is the best… My 2022 Can Am Sea to Sky never looked better… great match…Thx is not enough
Matty
This will be my 5th Utopia backrest
I've used Utopia backrests on my last 4 two-wheelers (Harleys and Goldwings) and they are perfect for my aging back! Now that I've graduated to a trike I'm going to need another one... Tried the HD OEM version, but it's no match for the durability broad adjustability and comfort of the Utopia! 
Tom
SOOOOO comfortable going down the road!
I had my doubts, but came away from this experience by asking what many other reviewers have. Why did I wait so long? Easy to install, well designed and constructed product, and it is SOOOOO comfortable going down the road! Well worth the investment. Bob was very responsive when I emailed a question, and took his time to explain the answer. My order was confirmed promptly, and shipping was actually a bit earlier than promised. I'm ready for a couple long hauls this summer. Great product! 
Dave